McTighe, J., & Ferrara, S. (1998). Assessing Learning in the Classroom. Student Assessment Series. NEA Professional Library, Distribution Center, PO Box 2035, Annapolis Junction, MD 20701-2035.
Assess teaching and learning, not the student and grades

"The primary purpose of classroom assessment is to inform teaching and improve learning, not to sort and select students or to justify a grade." (McTighe & Ferrara, 1998, p.1)

Latin roots

"the term assessment is derived from the Latin root assidere meaning "to sit beside." (McTighe & Ferrara, 1998, p.2)
"Assidere suggests that, in addition to tests and projects, classroom assessments include informal methods of "sitting beside," observing, and conversing with students as a means of understanding and describing what they know and can do." (McTighe & Ferrara, 1998, p.2)

Types of assessment

Tests

Rigid format: time limits, paper and pencil, silent
Limited set of responses: limited access to source material

Evaluation

Make judgements regarding quality, value, or worth
Pre-set criteria

Summative assessment

culminating assessment that provides a summary report

Formative assessment

Ongoing diagnostic
Helps teachers adjust instruction
Improve student performance
Determine previous knowledge
Determine ongoing understandings and misconceptions

Large scale assessment

Usually standardized tests
Educational accountability
Norm referenced

Easier interpretation
Comparison with others
Averages to determine your position

Criterion referenced

Compared to reestablished standards

Classroom assessments

Diagnose student
Inform parents
Improve practice

Effective Classroom Assessment

Inform teaching and improve learning

Performance-based assessments

Focus instruction and evaluation
Students understand criteria for quality
Students get feedback and revise their work
Peer- and self-evaluation

Multiple sources of information

Single test is like a single photograph
Frequent sampling
Use array of methods

Create a Photo Album instead of single photo at the end

Different times
Different lenses
Different compositions

Valid, reliable, and fair measurements

Validity: How well it measures what it is intended to measure
Reliability: If repeated, would you get the same results?
Fairness: give students equal chances to show what they know and can do without biases or preconceptions

Ongoing

Content Standards

Declarative knowledge

what do students understand (facts, concepts, principles, generalizations)

Procedural knowledge

what do we want students to be able to do (skills, processes, strategies)

Attitudes, values, or habits of mind

how we would like students to be disposed to act (appreciate the arts, treat people with respect, avoid impulse behavior)

Purpose & Audience

Why are we assessing?
How will the assessment results be used?
Who are the results intended for?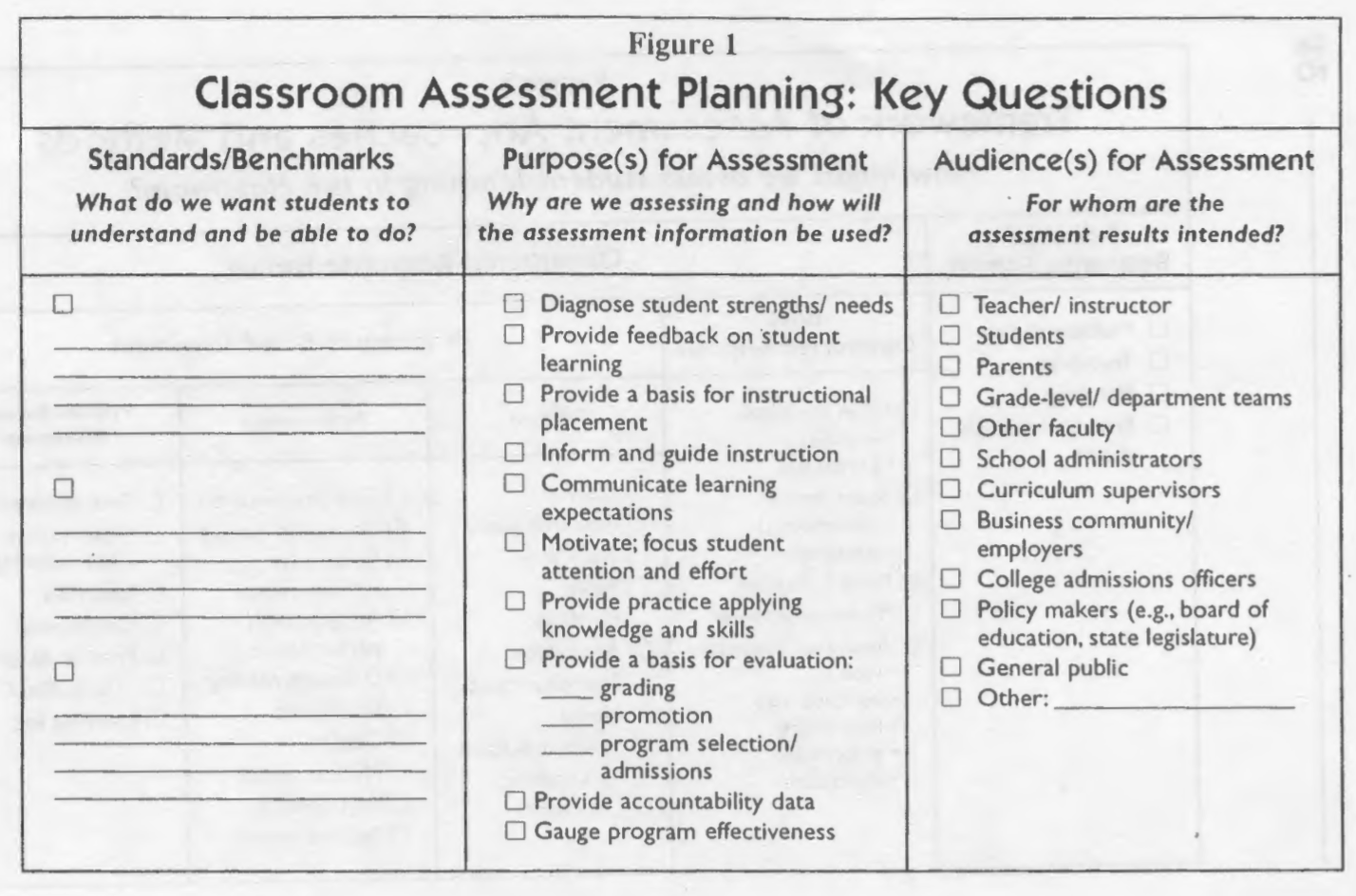 Assessment Approaches and Methods

Approach – what do you want students to do?

Select a response
Construct a response
Create a product
Provide and observable performance
Describe their thinking/learning process

Selected-Response Format

Positive

Wide range of knowledge can be 'tested'
Easy to implement
Easy to evaluate and compare
Fast

Negative

Assess knowledge and skills in isolation and out of context
Not able to assess critical thinking, creativity, oral communication, and social skills
Real-world does not have single correct answers
Focuses students on acquisition of facts rather than understanding and thoughtful application of knowledge

Constructed-Response Format

Brief Constructed Response

Short written answers
Visual representations
Positive

Students have a better opportunity to show what they know
Easier to construct and evaluate than other constructed responses

Negative

Does not assess attitudes, values, or habits of mind
Require judgement-based evaluation – low reliability and fairness

Performance-Based Assessment

Requires students to apply knowledge and skills rather than recalling and recognizing
Associated terminology:

Authentic assessment
Rubrics
Anchors
Standards

Content standards – what students should know
Performance standards – how well students should perform
Opportunity-to-learn standards – is the context right

Positive

Content-specific knowledge
Integration of knowledge across subject-areas
Life-long learning competencies

Negative

Do not yield a single correct answer or solution – allows for wide range of responses (also positive)

Types

Product

"Authentic" since it resembles work done outside of school
Portfolio to document, express individuality, reflect, observe progress, peer- and self-evaluation
Criteria must be identified and communicated with students

Performance

Can observe directly application of knowledge
Students are more motivated and put greater effort when presenting to 'real' audiences
Time- and labor-intensive

Process-focused assessment

Information on learning strategies and thinking processes
Gain insights into the underlying cognitive processes
Examples

"How are these two things alike and different?"
"Think out loud"

Continuous and formative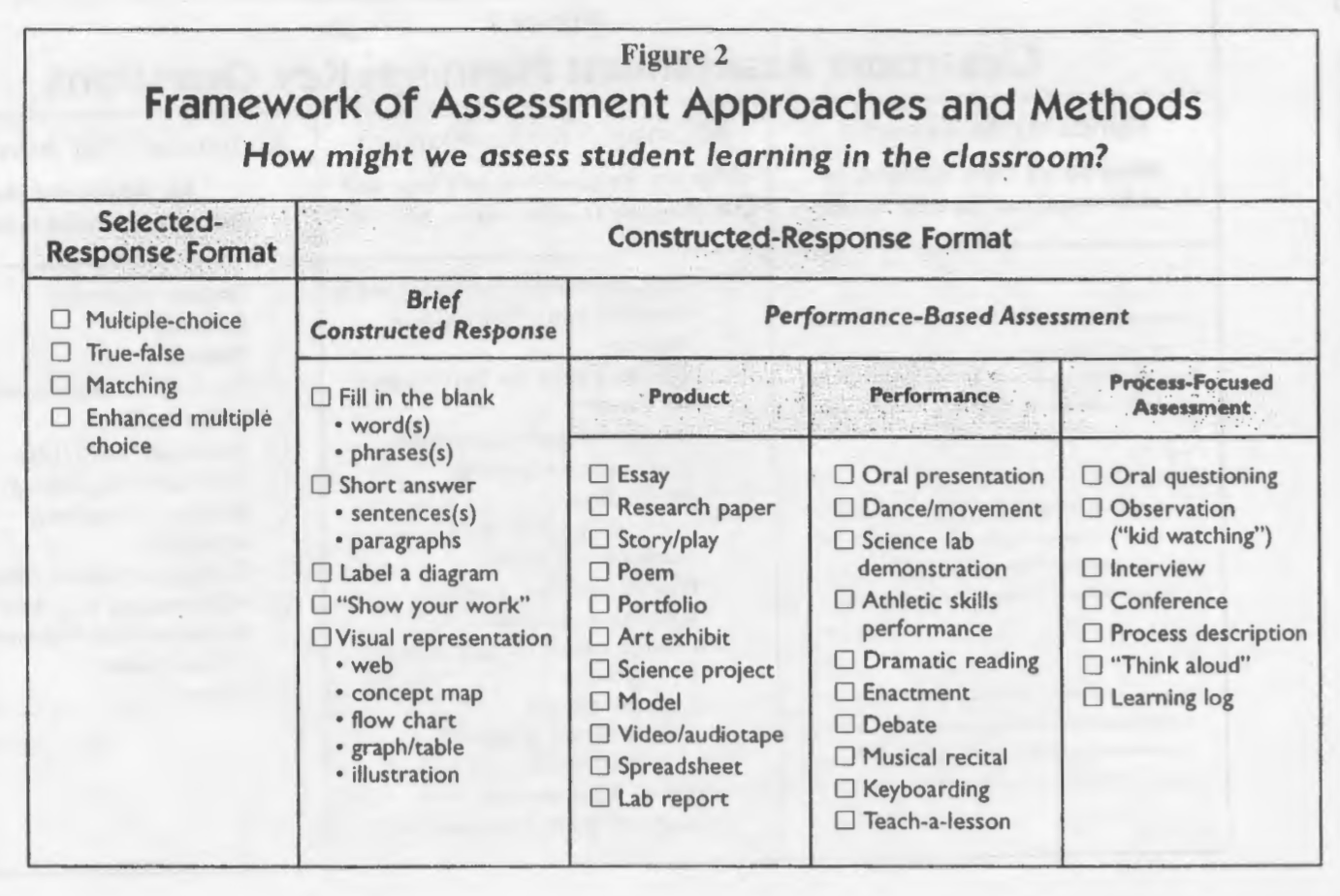 Evaluation Methods and Roles

Scoring Rubric (Rubrica – red earth used to mark something of significance)

Evaluative criteria
Fixed scales
Description of how to discriminate levels of understanding, quality, or proficiency
Holistic Rubric

Overall impression of quality and levels of performance
Used for summative purposes

Analytic Rubric

Level of performance along two or more separate traits
Used in day-to-day evaluations in classroom

Generic Rubric

General criteria for evaluating student's performance
Applied to a variety of disciplines

Task-specific Rubric

Designed to be used in a specific assessment task

Anchors

Examples that accompany a scoring rubric

Rating scales

Bipolar rating scales – bad & good, relevant & irrelevant

Checklists

Good to ensure no element is forgotten or attended to

Written and oral comments

Best level of feedback – communicates directly with student
Must not be only negative feedback

Communication and Feedback Methods

How to communicate results?
Numerical scores & Letter grades

Widely use but not descriptive

Developmental and Proficiency Scales

Contain description of quality and performance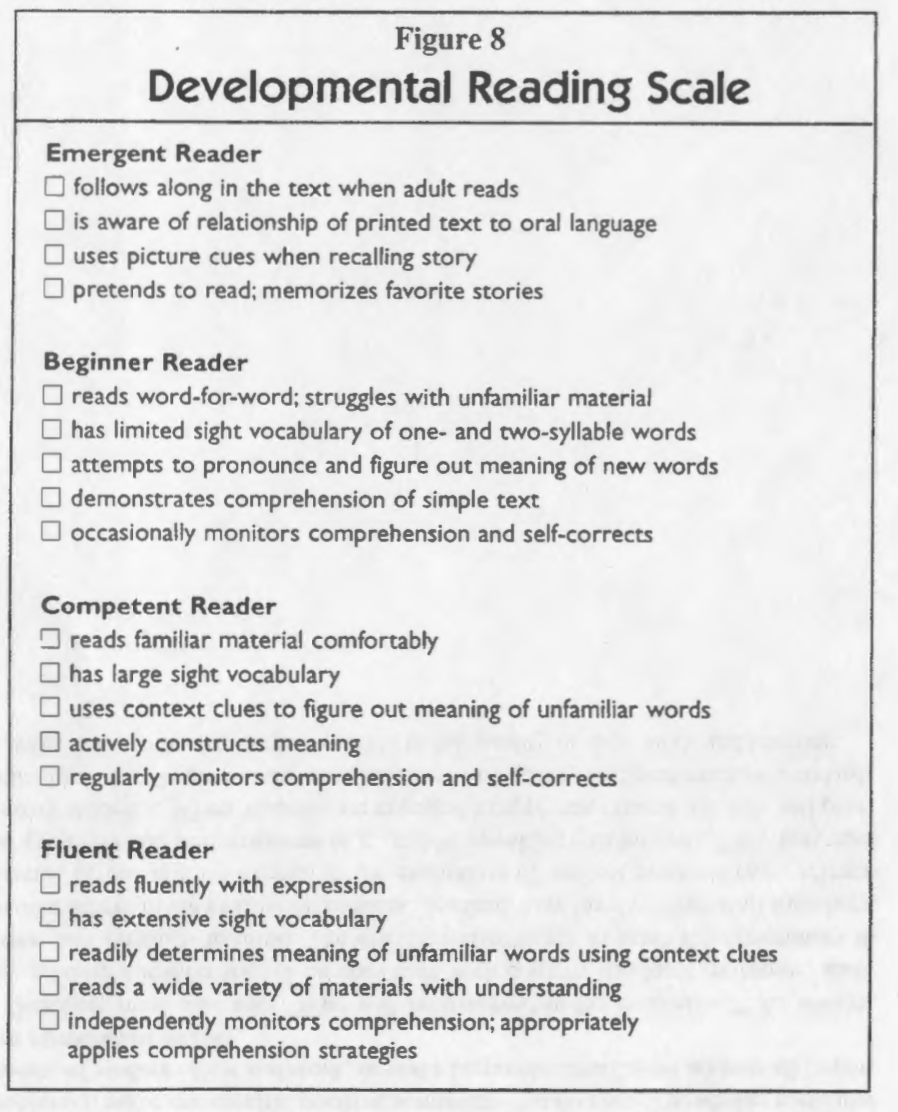 Checklists

Careful with poorly defined categories like creativity – open to interpretations

Written comments, narrative reports, verbal reports, and conferences

Communicate directly with each student
Time-consuming

Assessment not only measures outcomes but also invokes the values, the how, and the what of learning,
Great glossary at the end of this paper.
---
Coffey, J. (2003). Involving Students in Assessment. In J. Atkin & J. Coffey (Eds.) Everyday Assessment in the Science Classroom. Arlington, VA: National Science Teachers Association. pp. 75-87.
Assessment is an opportunity for learning

"Whether it comes after teaching, while teaching, or by teaching, we often think of assessment as something done to students, not with them." (Coffey, 2003, p.76)

Teachers

check assignments and interpret student responses
listen closely to students' questions so that they can gain insight into their students' understandings
seek to make explicit the assessment criteria so that all students know how they will be evaluated
try to use what they learn through assessment to inform teaching, plan future learning activities, and provide relevant feedback
constantly gauge trends in class engagement, interests, and understanding
strive to fairly assign grades that accurately reflect what a student knows and is able to do.

Everyday Assessment

"Everyday assessment is a dynamic classroom activity that includes the ongoing interactions among teachers and students as well as more scheduled events, such as weekly quizzes and unit tests." (Coffey, 2003, p.76)
"One of the many purposes of everyday assessment is to facilitate student learning, not just measure what students have learned." (Coffey, 2003, p.77)

Key Features of Assessment

explicating clear criteria (Butler and Neuman 1995)
improving regular questioning (Fairbrother, Dilln, & Gill 1995)
providing quality feedback (Kluger and DeNisi1996; Bangert-Drowns et al. 1991)
encouraging student self-assessment (Sadler 1989; Wolf et al. 1991)

Responsibility for own learning

"When students play a key role in the assessment process they acquire the tools they need to take responsibility for their own learning." (Coffey, 2003, p.77)

Low performing benefited the most

"Lower-performing students … showed the greatest improvement in performance when compared to the control class." (Coffey, 2003, p.77)

Learning From Connections

"Through the students' explicit participation in all aspects of assessment activity, they arrived at shared meaning of quality work. Teachers and students used assessment to construct the bigger picture of an area of study, concept, or subject mater area. Student participation in assessment also enabled students to take greater responsibility and direction for their on learning." (Coffey, 2003, p.78)

Shared Meanings of Quality Work

Activities

students generating their own evaluation sheets
conversations in which students and teachers shared ideas about what constituted a salient scientific response, or a good presentation, lab in investigation, or project
discussion of an actual piece of student work
student' reflections on their own work or a community exemplar
student' decision making as they completed a project

Assessment as a Means to Connect to a Bigger Picture

"Teacher and student s leveraged test review as an opportunity to return to the bigger picture of what they had been studying. The class talked about what was going to be covered on the test o quiz so that all students knew what to expect." (Coffey, 2003, p.84)

Assessment as a Vehicle to facilitate Lifelong Learning

"The test process also encompassed graded responses after the test, and students would often do test corrections after going over the test. On occasion students would write test questions and grade their own work." (Coffey, 2003, p.84)

Creating Meaningful Opportunities for Assessment

Time
Use of Traditional Assessment
Public Displays of Work
Reflection
Revision
Goal Setting

Results

"Despite initial resistance, as students learned assessment-related skills, demarcations between roles and responsibilities with respect to assessment blurred. They learned to take on responsibilities and many even appropriated ongoing assessment into their regular habits and repertoires." (Coffey, 2003, p.86)
---
Treagust, D., Jacobowitz, R., Gallagher, J, & Parker, J. (March 2003). Embed Assessment in Your Teaching, Science Scope. pp. 36-39.
Effective strategies for implementing embedded assessment

Use pretests

identify students' personal conceptions
misconceptions
problems in understanding the topic

Ask questions to elicit students' ideas and reasoning

"Acknowledge each student's answers by recording them on the board or by asking other students to comment on their answers." (Treagust, Jacobowitz, Gallagher, & Parker, 2003, p. 37)

Conduct experiments and activities

challenge their own ideas
write down their findings
share with their peers.

Use individual writing tasks

capture students' understanding
teacher can assess their progress

Use group writing tasks

students work together to illustrate each other's respective understanding

Have students draw diagrams or create models

Results

"25 percent of students in the class taught by one of the authors were rated "Proficient" on the MEAP Science Test compared to 8 percent of other eighth grade classes in the school" (Treagust, Jacobowitz, Gallagher, & Parker, 2003, p. 39)
"Moreover. students become more engaged in learning when their teacher gives attention to students' ideas and learning. and adjusts teaching to nurture their development." (Treagust, Jacobowitz, Gallagher, & Parker, 2003, p. 39)
---
Echevarria, J., Vogt, M, & Short, D., (2004). Making Content Comprehensible for English Learners: The SIOP Model. (2nd edition). Boston: Allyn & Bacon. pp. 21-33
Sheleterd Instruction Observation Protocol (SIOP)

Content Objectives
Language Objectives
Content Concepts
Supplementary Materials
Adaptation of Content
Meaningful Activities