Final revision of previous assignment.
Link to Google Docs with proper formatting
---
Makerspace for Classroom Teachers
Lucas Longo – 2016
Introduction
Makerspaces in schools provide an unique opportunity for teacher professional development, in all disciplines. They may provide a situated learning experience where teachers can recall the difficulties students have in the process of learning and thus reflect upon their own teaching practices. Given that the majority of teachers are not familiar with fabrication and electronics, they are put back into the beginner's seat, providing the possibility of reflecting metacognitively about learning and teaching. Accompanied with engaging discussions and activities of grounded on the affordances the activities provide, teachers learn about the best practices of teaching through modeling and engagement in practice.
The nature of the activities in makerspaces range from exploring, designing, building, and asking questions – all traits considered desirable in today's research in education. What if we could apply these features into an English Poetry class? How can we promote transfer from the teachers experiences in the makerspace into their everyday classroom activities? I propose a PD curriculum that through engaging in makerspace, teachers are provided the opportunity to reflect on how learning happens, how to transfer these ideas into their own practice, and ultimately affect learning outcomes of their students in their own disciplines.
"In fact, the richness of makerspaces comes not from the fact that the abstract is left out, but that it is brought in together with new ways to build relationships with and between objects and concepts. " (Blikstein & Worsley, 2001, p.5)
The Space
To explore this idea of using makerspaces as a learning environment for teachers I went to a public elementary school in Palo Alto where I interviewed the lab coordinator, who I shall call Jane. She walked us through the stations, described the activities students engage with in the space, and how she actively helps classroom teachers use this space as a learning environment in their disciplines. She used to be a science teacher and ran computer programming workshops after school before she created the maker space at the school. Her digital literacy and technical knowledge were surmount in her appointment for the task and as I see it, essential to be able to design the space, choose the tools, and use them for didactical purposes.
The space itself was a regular classroom converted into an open space with the working stations along the wall and low tables covered with paper where the students plan and work on their iPads. An outside area is also used for larger projects and is where all the Lego bricks are stored. Jane transformed it into a Makerspace by getting rid of all the closed cabinets along the walls, cutting the table's legs making them more accessible to the students, and installing shelves to store material and student's work. This was the first makerspace in Palo Alto's District created around one and a half years ago, and now is being used as a model for other schools. An interesting concept that arose from the conversation was that some schools who do not have a full classroom for a makerspace are using karts with equipment and material that is circulated amongst the teachers allowing them to use the tools in their classroom.
Jane also mentioned that she has worked at the richest school in Palo Alto where they still do not have a Makerspace. 'They are still thinking about the color of the furniture that will go there' and 'the teachers are not aware that the administration is even thinking about or planning to create a makerspace.' 'Teachers are not bought into it yet – they have the money but nothing happens. Let the kids do it – figure it out what is needed – put in action – do it.' Her maker mentality needs to be somehow transmitted to the other schools. Freire would appreciate her statements in the sense that she is providing an open space for dialogue and relinquishing control over the experiences the students have in the space. She embraces the notion that the students are responsible for their own projects and that the teachers learn as much from them as they might from the teacher.
This transformative approach to teaching is promoted by her not only at her school but also in more formal PD sessions she holds at the space. At the district level she teaches "iPad in the Classroom", "How to use Google Docs", and "Schoology". Every year she creates new courses to match the current software needs the teachers might have. Her drive and content knowledge applied to 'spreading the word' seems to be the key factors in this space's success, and ultimately its sustainability. Any learning environment needs someone who will skilfully become a caretaker, curator,  facilitator, and enthusiast.
The following pages contain some photos of the space and a floor plan to situate the tools. I also recorded the interview and transcribed it loosely, categorizing by topic what was said. Please refer to the Raw Data for the full transcript of the interview.
Documentation

General view of the maker space

3D printer, object scanner, Lego Mindstorms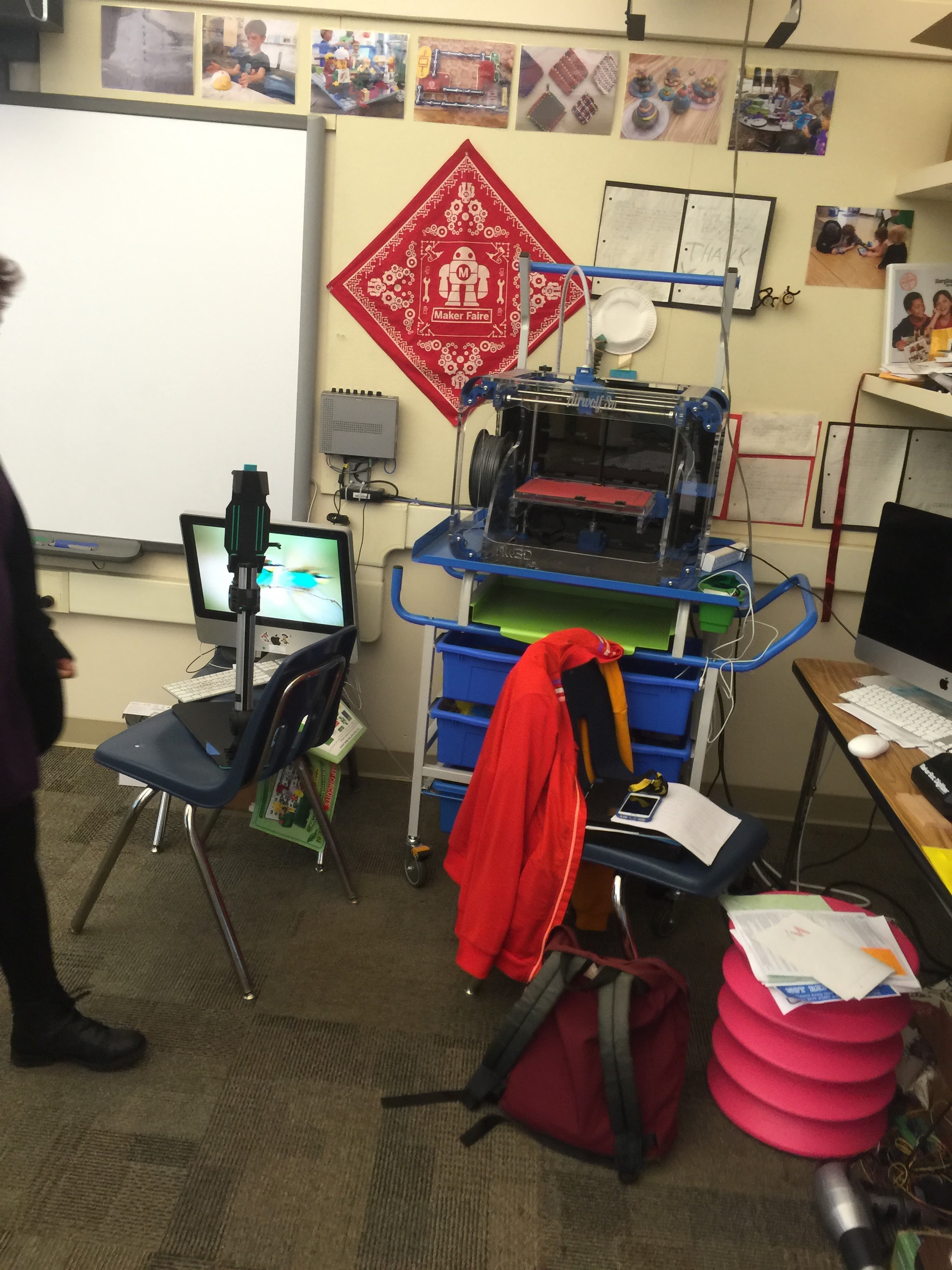 Smartboard, document camera, 3D printer
Robots, Lego Mindstorm, and mini-drones
Makerspace floorplan
The arrangement of the space is divided into tool stations along the perimeter and working stations in the central area. Even though the space might look 'messy' it conveys a message of open exploration where all the tools and supplies are readily available for use. There is no check-out sheet of any kind or locked cabinets to which students need to request access to. The space itself is open to students during lunch time and after school promoting the idea of free access and empowers the students to decide when to work on their projects.
Curricula Integration
Jane uses the space as a learning environment for the classroom teachers at the school. She actively engages with the classroom teachers to create learning experiences in the makerspace. At Grade level meetings, she occasionally pops in and gives them ideas of activities and projects they could do in the makerspace that would enhance the learner's experience with the subject matter. Understanding the affordances provided by the space and the teacher's current topic of study provides a rich collaboration and an even richer experience for the students. Students for example, are encouraged to document their entire process, from design to final product. With these pictures, notes, and videos the students can 'reflect back and see how they could do it differently next time.'
We could transfer this concept into PD by stressing the importance and value of formative assessment techniques the teachers could use in their own practice. Another example of this kind of transfer can be extracted from the fact that at lunch time all age groups are together in the space, where peer-to-peer teaching is evident. 'They observe each other and learn from each other – even the older kids learn from the younger kids.' A teacher PD designed in a makerspace would facilitate and demonstrate the value of collaboration and group work.
Before the space was built, the teachers 'apprehensive and did not know about expect' but they now see the student's 'excitement and learning'.  
'They all get on-board once they see this happening. Classroom teachers think that they have to learn it all themselves. The mindset has changed. Now they know that the kids know more about the apps and the space than they do so they are willing to relinquish control and let them figure it out.'
I found it particularly interesting to note the teacher's fear of not knowing how to use the makerspace's tools. Implicitly, this hints towards a 'banking model' (Freire, 1970) of education where the teacher believes they are the holder of all knowledge that must be deposited into the student's mind. In the makerspace, teachers have to dive into to the tools and learn with the students to enable them to progress with their projects. Suddenly the students know more than the teacher about a particular tool and more importantly, about their own project, intentions, and goals. The teacher becomes a facilitator instead of a fact presenter.
I am not suggesting that all of the English Poetry class should be taught in a makerspace or that we have to throw away the current method of teaching that class. The central idea is to use the makerspace as yet another possible affordance in the engagement of students with the content. The challenge is to demonstrate to classroom teachers that it is possible to learn not only from books, lectures, and in-class in-control situations. It is also 'more work' to think about lesson plans, design activities, and ultimately integrate the traditional and known curricula to lesser known methods, tools, and environment.
Conclusion
Creating a makerspace in a school must be accompanied with a proficient leader who will be able to talk-the-talk and walk-the-walk. Not only this person must be fluent in the lingo of the technological tools, they must also see that sewing machines, cardboard, wood block, glue, and other low-tech materials provide excellent resources in a makerspace. In that sense, the makerspace can very well be thought of as an "arts and crafts" space with some new tools for creative expression and active learning. The driver must be to facilitate the guided creation of projects students engage in related to the content and learning goals required in a classroom teacher's discipline.
Along with understanding these core drivers that sustain the children's interest in the space, this person must also engage classroom teachers in this experience actively promoting experimentation. This role involves exposing teachers to the possibilities the space offers in terms of types of projects, activities, and processes. Initially the teachers might need help with coming up with ideas of integrating their discipline with these possibilities and designing learning experiences to achieve existing learning objectives.
Jane's pragmatic personality, hands-on approach, and technological know-how are essential characteristics for creating a sustainable makerspace. She is continuously making efforts to spread the word and to help teachers figure out how to best use the space with integrated constructivist activities encouraged in makerspaces. It is a process that takes time, determination, and enthusiasm.
Even though a direct link between the makerspace experience and an improvement in academic performance may be hard to be measured precisely, the effort seems to be rewarding and promote growth beyond test results. It teaches both the children and the teachers to co-create, explore, investigate, and 'make' their own learning happen.
Raw Data:
Interview Transcript – Smita Kolhatkar – Barron Park Elementary School – Jan 2016
Physical environment
Transformed the classroom into a Makerspace by clearing cabinets, cutting the tables to be closer to the ground

Space is open during lunch – a free for all

Computers and iPads remain on the tables while the gluing station and making areas along the walls

This was the first makerspace (1.5 yrs old) and now being modeled – those who do not have the space, they have karts with equipment on them

Smallest and poorest school in Palo Alto – 30% "Free Reduced"(???) Lunch, 30% EL, a lot of special needs students

She worked at the richest school in Palo Alto but they still don't have a Makerspace because they are still thinking about the furniture

The teachers are not aware that they are thinking planning to start a Makerspace

Teachers are not bought into it yet – they have the money but nothing happens

Let the kids do it – figure it out what is needed – put in action – do it

50 kids every day at lunch

Lunch 12:25 to 1:00
The learning task
Classroom teachers and her talk about what they could do for their classroom

Students document their entire process

Lego kits comes with curriculum

Pictures offer a closure of the project

Students prefer the tangible affordances of the robots – having to connect them to a computer in order to program them is an obstacle

At the District Level she teaches iPad in the Classroom, how to use Google Docs, Schoology

Use the Makerspace as a PD environment

Low enrollment this year – teachers have a lot to do – held 1 or 2 only in the past year

Our teachers were apprehensive before the space opened up – they did not know about expect – once it opened, they see the student's excitement and learning they all get onboard

At Grade level meetings, she pops in and gives them ideas of what they could do with their classroom

As students progress through the years, they come into with previous knowledge and are able to dive into making

All age groups get together during lunch time – lots of peer-to-peer teaching. They observe each other and learn from each other – even the older kids learn from the younger kids

They teach each other and it comes naturally to them

Minecraft – one boy simply observes a group of older students working on their project, learns from it, and makes suggestions about what they should do

Classroom teachers think that they have to learn it all themselves – the mindset has changed – now they know that the kids know more about the apps and the space than they do so they are willing to relinquish control and let them figure it out

Kids usually finish the projects – almost like an unsaid rule – when they get stuck you help them – but naturally invested in finishing the projects

There is no "I Can't"

Exposure to all kinds of things is important

Everyone talks about letting kids following their passions but they do not know what passion is!

They have an iPad Squad from 5th grade that does updates and maintenance

Teach them to document the process by taking photos so that when we have them reflect back they can see how they could do it differently next time

Digital etiquette that comes with it is great as well

What to do when you search Google and something inappropriate comes up?
Tools
They already had a 3D printer, LEGO Mindstorm, computers, and iPads

Dash&Dot gave them robots

iPad apps are really easy to use and very powerful

Parents donated quite a bit of material

Schools get a tech budget and spend them how they want – teachers were involved in the decision making process

Chromebooks – not as intuitive, apps are still coming out, no camera, cumbersome to carry – "no brainer to choose the iPad over Chromebooks" – not as intrusive in the classroom: no screen standing up on the desk

Computers are only used for programming but more and more, the programming capabilities are more and more available on the iPads

Circuit kits are extremely popular

Dissection projects – tear down electronics

Laser cutters are too expensive and not very safe – require exhaust and all – ordered a Glow Forge

Minecraft – creation mode only

Since Microsoft bought it, they are promising lesson plans to be used in the classroom

Lego Mindstorms not so good because you need to program on the computer and newer versions come first for the PC – schools have Macs.

Make the most out of the resources we have

Kids need to be used to different devices – using the computer is good occasionally

Apps are easier but are still not quite there for 3D tools

Store pictures on Schoology
The students
Students are highly engaged – they never want to stop working

Kids come in and says "I want to make something today" – they look at the material and start making

Gender preferences start appearing in 4th and 5th graders where boys gravitate to Minecraft

1st and 2nd graders – hard but possible to teach coding

Girls don't enjoy sitting in front of the screen

All like the robots and the tangibles

Coding must be introduced early on for girls – otherwise would loose interest on it later on

Two girls started coding club at their middle school

Boys use the sewing machines – don't even have to ask that

We love it because we can make anything we want

A lot of boys would even come after school to finish projects

They have phases – are into one tool at a time
The teacher
She was a classroom teacher and then given the task to integrate technology

She acts as the technology integrator

First EdCampSVMake focused on Making April 30th – Saturday – 9 to 3 at Barron Elementary – Aimed at educators –

https://www.eventbrite.com/e/edcampsvmake-tickets-20901981389?aff=es2

Might help that she is a woman in reducing gender biases

Her blog – http://haystechblog.blogspot.com
Maker Studio Initial Equipment List by Smita Kolhakatar
Sewing station

Sewing machine

Loads of fabric

Sewing accessories

Thread

Bobbins

Needles

Buttons

Sewing pins

Yarn

Looms

Filming Station

Stands for Stop Motion

Props for Stop Motion from Plan Toys

Gluing Station

Glue

Glue sticks

Glue guns

Masking tape

Regular tape

Robots Station

Supplies

Markers

Crayons

Color pencils

Pens

Markers

Scissors

General Materials for building

Corks

Popsicle sticks

CDs

Straws

Wood scraps

Filters

Empty cartons

Cereal boxes

Pegs

Pipe cleaners

Bottle caps

Lots of empty boxes

Stuffing

Keva Planks

Stuffed toys

Circuitry

Battery packs

LEDs

Wires

Battery cells

Snap Circuits

Dough for squishy circuits

Makey Makey

Building kits

Movable whiteboards

iPad mini

MacBook Air

Makerbot Replicator 2

Makerbot Digitizer

LEGO NXT class kit

LEGO Storystarter class kit

Arduino kits

Soldering Kits

Laptops

Make Wonder Dash and Dot robots

Furniture

Tables (Low)

Tables (High)

Chairs

Cupboard

Built in counter space

Wall shelving
References:
Ackermann, E. (2001). Piaget's constructivism, Papert's constructionism: What's the difference. Future of learning group publication, 5(3), 438.
Blikstein, P. & Worsley, M. (2014?) Children Are Not Hackers.
Freire, P. (2000). Pedagogy of the oppressed. Bloomsbury Publishing.