Reading: 
Ambrose, "How Learning Works."
Chapter 7: "How do Students Become Self-Directed Learners?"
Summary  
Growth mindset keeps coming to mind obviously, along with the notion that metacognition must be taught starting much earlier than college. But to do so, one must focus on first teaching it to the professors and teachers, who most likely were never taught the topic either. Beyond simply teaching about it, one must recognize that self-monitoring, self-evaluating, planning and so on, are cognitively demanding tasks that must come with high motivation to be adopted by someone who is already overloaded with their practice, research, and work. The same applies to the students who on top of learning the content, they must also think about their own learning. Therefore, we should strive to reduce the load of useless-once-memorized-its-lost content and increase the load of preparing children and young adults to learn and function in real life.
Notes
Metacognition

"Metacognition refers to "the process of reflecting on and directing one's own thinking" (National Research Council, 2001, p. 78)."
Students often do not know how to evaluate their own performance

Not a subject that is included in classrooms

How to become a self-directed learners

"Principle: To become self-directed learners, students must learn to assess the demands of the task, evaluate their own knowledge and skills, plan their approach, monitor their progress, and adjust their strategies as needed." (Ambrose, 2010)

Cycle of Self-Directed Learning

Not really a core-loop, more like a challenge-loop
Assessing the task is actually quite hard to be done by students
Evaluating personal performance is done poorly by low performing students
Planning, if done at all, is done poorly by low performing students
Apply Strategies and Monitor Performance your own behavior increases learning
Reflecting on approach taken may not lead to trying another strategy
Student's beliefs also affect how much they learn… growth mindset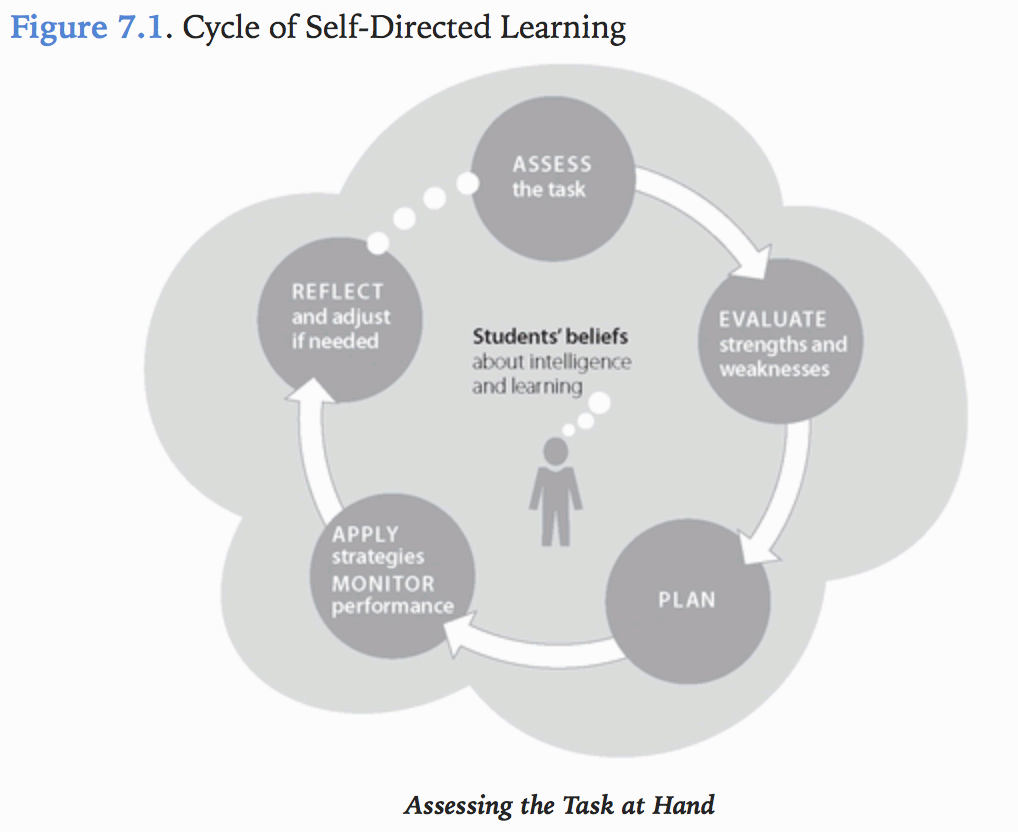 Research finding:

Metacognition is not used by students (or taught by the teachers)

Strategies:

Assess

Be More Explicit Than You May Think Necessary
Tell Students What You Do Not Want
Check Students' Understanding of the Task

Provide Performance Criteria with the Assignment

Evaluate

Give Early, Performance-Based Assessments

Provide Opportunities for Self-Assessment

Planning

Have Students Implement a Plan That You Provide

Have Students Create Their Own Plan When

Make Planning the Central Goal of the Assignment

Apply & Monitor

Provide Simple Heuristics for Self-Correction

Have Students Do Guided Self Assessments

Require Students to Reflect on and Annotate Their Own Work

Use Peer Review/Reader Response

Reflect

Provide Activities That Require Students to Reflect on
Prompt Students to Analyze the Effectiveness of Their Study Skills
Present Multiple Strategies
Create Assignments That Focus on Strategizing Rather Than Implementation

Student's beliefs

Address Students' Beliefs About Learning Directly
Broaden Students' Understanding of Learning Students
Help Students Set Realistic Expectations

Metacognition

Modeling Your Metacognitive Processes
Scaffold Students in Their Metacognitive Processes