Assignment: 
Choose one of the four NMC Horizon Reports for 2015 that is of interest to you.  Each one has a link to the wiki where the work was produced.  For your chosen report, explore the trends currently being discussed.  Post 2-3 paragraphs about what trend you think might have the biggest impact on learning.  Why?
Reading Notes: 
I started out reading the Higher Education Report… was halfway through when I realized we were supposed to read the trends on the Wiki instead!! Oh well – very interesting reading that some time I will go back to for sure.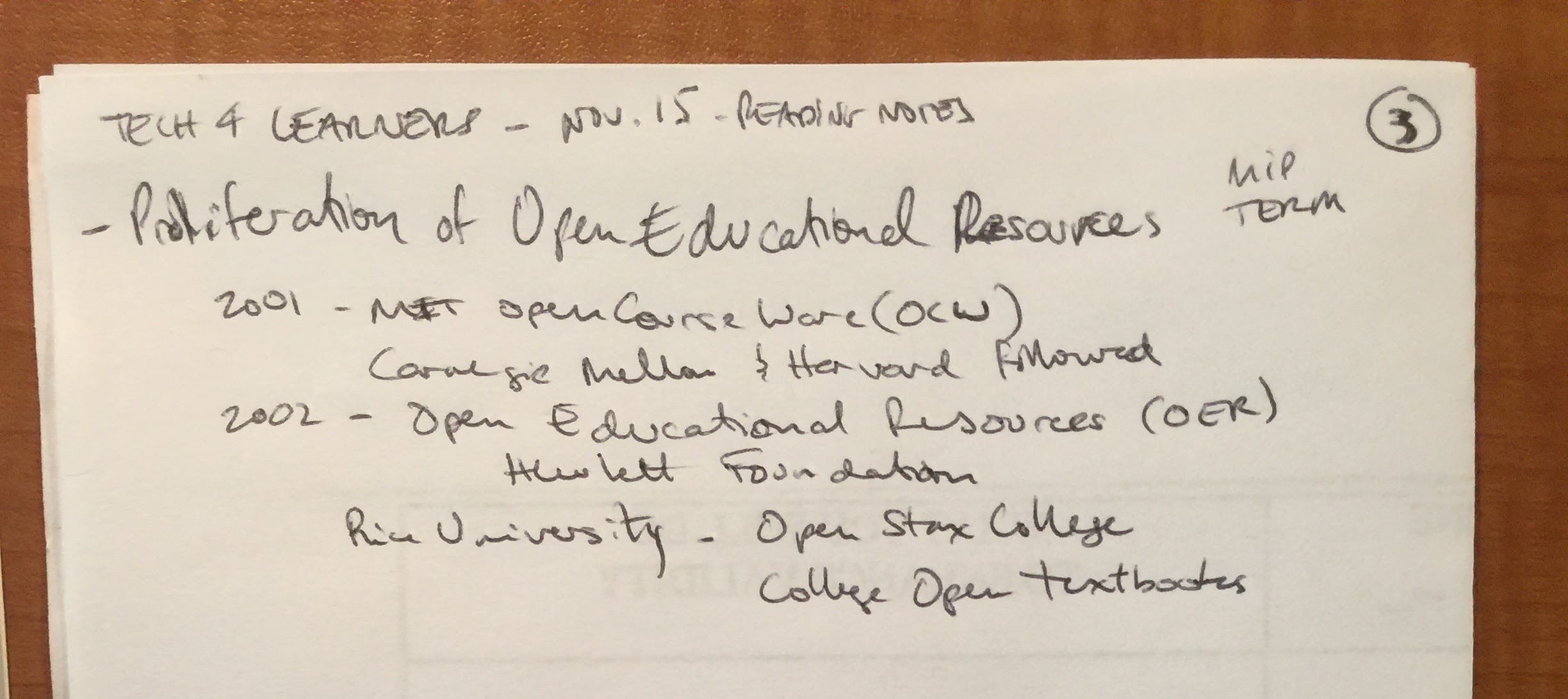 ---
New Reading Notes: Continuing the reading (correct one now)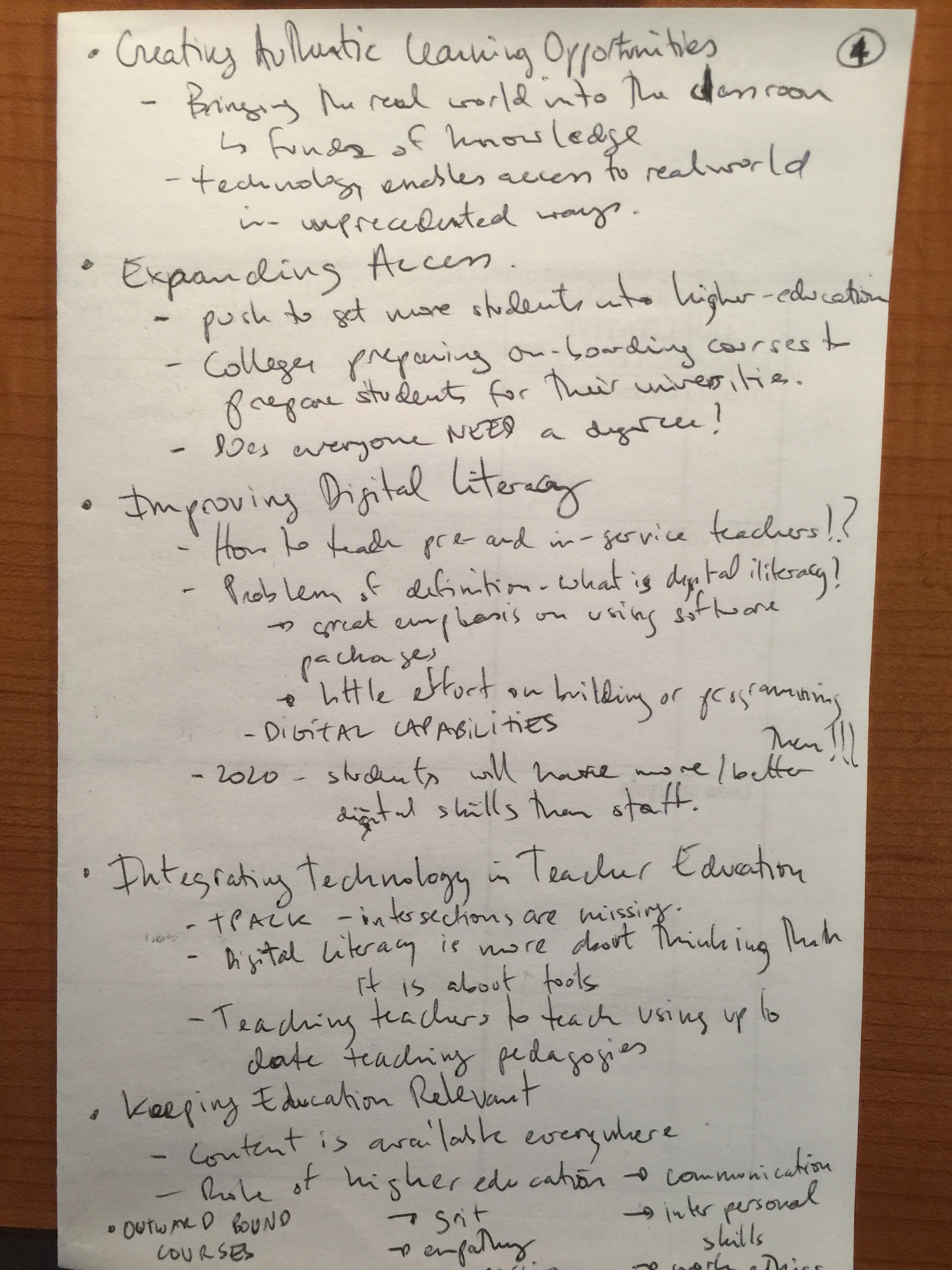 Response: 
I chose to read the Higher Education report and thought that the trends that might have the biggest impact on learning can be categorized in 2 areas as I see it:
Teach Differently – look at new methods of teaching and how to use technology within the learning experiences.
Balancing Connected and Unconnected Lives
– We, as adults, teachers, and parents have trouble achieving this balance, therefore we should think about how might we teach the lessons learned to the younger generations.
– "Where we put our attention is not only how we decide what we learn, it is about how we show what we value."
Integrating Technology in Teacher Education
– Without TPACK how can a teacher be effective with all the content and interactions available through technology their students use daily?
– Teachers must be able to understand technology and its implications to be able to use it effectively.
– "This challenge is exacerbated by the fact that digital literacy is less about tools and more about thinking, and thus skills and standards based on tools and platforms have proven to be somewhat ephemeral"
– "… teaching teachers to teach using up to date teaching pedagogies…"
Rethinking the Roles of Instructors
– Teachers become more of a guide and filter of content that a content delivery tool
– "We're trying to get teachers to stop lecturing by lecturing to them"
Teach Different Things – look at what is being taught – is it useful or relevant, is it enough?
Creating Authentic Learning Opportunities
– Teach what you need to operate in the real world
– Teach about soft skills and well as core competencies
– "Practices such as these may help retain students in school and prepare them for further education, careers, and citizenship in a way that traditional practices are too often failing to do."
Keeping Education Relevant
– Teach what the industry and the real world demands from students
– "The idea is to rethink the value of education as a means of reinforcing attitudes and skills learners will need to seek credible information, work effectively in teams, and persist in achieving their goals."
Managing Knowledge Obsolescence
– How to deal with the every faster evolution of subject matters, findings, research, and beliefs.
– It's a problem of change management – how to internalize constant external changes?
– "There is a greater need than ever for effective tools and filters for finding, interpreting, organizing, and retrieving the data that is important to us."
Teaching Complex Thinking
– How to teach students to tackle complex problems, negotiate important matter and identify the validity of data sources.
– "The OECD report indicates the crucial need for learners to learn HOW to navigate digital texts, deal with issues of veracity and validity, and know ethical practices of using others' work."
To sum it up, I believe that the greatest impact in learning involve re-teaching our teachers to teach. At the same time I recognize that this is probably one of the hardest problems to resolve since it is not a matter of simply throwing money at the problem. It is about changing culture, changing daily routines, and ultimately working more, thinking harder, caring more, and valuing correctly the role of education in the world's future.